January & February 2016
IN THIS ISSUE
BOOKS
2015 Manitoba Bestsellers || 2015 Saskatoon Bestsellers || Yann Martel's New Novel Packs a Mythic Punch || Dollar Wise || New in Paperback || What To Read || Author of the Month || Louis Riel: Nation Maker || The Refugee Crisis || Difference: The Story of My Teeth || To Your Health || New Fiction to Warm Up Your Winter Nights || Canada's Cold War || Got the Travel Bug? || Retirement Questions, Retirement Answers || Keep It Simple

NEWS, CLASSES, and COMMUNITY
Gurevich Fine Art: Nieve || The Espresso Book Machine: Make Your Book a Reality || Our Vibrant Communities: Winnipeg & Saskatoon || Prairie Ink's Winter Specials

MUSIC, MOVIES, and GIFTS
It's Spytime with the Game of Names || Travel in Style and with Convenience || Our Sights & Sounds: CDs, LPs, DVDs & Blu-Ray

FOR BABIES
First Concepts || Uncle Goose Alphabet Blocks || Naptime! || Assorted Mobiles by Ostheimer

FOR KIDS
Kindred Souls || DESTINY: A Writing Contest for Grades 5 & 6 || Tui T. Sutherland || Super Heroes || Stay Cozy with a Book || The 'I Love Reading' Book Club || Alice Kuipers' Enchanted Tale || Storytime || Happy Retirement, Lynn! || The Kid's Watch List
TEEN SCENE
The Second World War || Known Names, New Narratives || The "Be First" Book Club || The Teen Watch List

Your 2015 Manitoba Bestsellers
---
Fiction
All My Puny Sorrows by Miriam Toews. Softcover. $22.00.
Armin's Shorts by Armin Wiebe. Softcover. $19.00.
Too Far Gone by Chadwick Ginther. Softcover. $16.95.
Lessons from a Nude Man by Donna Besel. Softcover. $18.95.
After Light by Catherine Hunter. Softcover. $23.95
The Guy Who Pumps Your Gas Hates You by Sean Trinder. Softcover. $19.95.
Nightwatching by Méira Cook. Softcover. $19.99.
The Opening Sky by Joan Thomas. Softcover. $22.00.
Damsel by Cella Lao Rousseau. Softcover. $19.00.
A Safe Girl to Love by Casey Plett. Softcover. $23.95.
Nonfiction
Your 2015 Saskatchewan Bestsellers

---
Fiction
Nonfiction
Yann Martel's New Novel Packs a Mythic Punch
---
Saskatoon's Yann Martel returns with a luminous novel that takes us on an extraordinary journey through the last century as Martel explores the impact and significance of great love and great loss, belief and unbelief.
Told in three intersecting narratives that touch the lives of three different people and their families, The High Mountains of Portugal opens in the early 1900s, when Tomás discovers an ancient journal and sets out from Lisbon in one of the very first motor cars in Portugal in search of the strange treasure the journal describes. Thirty-five years later, a pathologist devoted to the novels of Agatha Christie finds himself drawn into the consequences of Tomás's quest. Fifty years after that, Senator Peter Tovy of Ottawa, grieving the death of his wife, rescues a chimpanzee from an Oklahoma research facility and takes it to live with him in his ancestral village in northern Portugal, where the strands of all three stories miraculously mesh together. (Hardcover. $32.00. Knopf. February) • Saskatoon event Jan. 28 & Winnipeg event Mar. 14
Dollar Wise

---
Gail Vaz-Oxlade gets hundreds of letters every month from people who can't figure out how to get their sister off their couch, their mother to stop hitting them up for money, or their mates to recognize that saving is part of having a solid financial foundation. Money Talks is Gail Vaz-Oxlade's answer to a tough and common problem that sits at the heart of money and relationships: how to tell your mate, your father, your best friend or your grandmother it's time for a change. (Softcover. $22.99. HarperCollins. December) • Winnipeg event Jan. 11 & Saskatoon event Jan. 12
Helaine Olen teams up with Harold Pollack to explain why ten simple rules that can fit on an index card can outperform the more complicated financial strategies of TV analysts and money managers. The Index Card is an easy-to-follow action plan that works in good times and bad, giving you the tools, knowledge and confidence to seize control of your financial life. (Hardcover. $33.00. Portfolio. January)
New in PAPERBACK
---
JANUARY 30% OFF

A God in Ruins by Kate Atkinson. $22.00. Our January 30% Off Price $15.40. In Life After Life Atkinson explored the possibility of infinite chances, following Ursula Todd as she lived through the turbulent events of the last century again and again. Her new novel tells the story of Ursula's younger brother Teddy, would-be poet, RAF bomber pilot, husband and father, as he navigates the perils of the 20th century. For all Teddy endures in battle, his greatest challenge is facing the difficulties of living in a future he never expected to have as he tries to make the transition from the war to peace time. Shortlisted for the 2015 Costa Award. (Anchor. January.)
FEBRUARY 30% OFF

The Evening Chorus by Helen Humphreys. $18.99. Our February 30% Off Price $13.29. Shot down on his first RAF mission, James Hunter, an English officer, spends WWII in a German POW camp. While other prisoners plan escapes, James begins studying a pair of redstarts near the camp. Back in England, James's wife, Rose, falls headlong into a passionate affair with another man. When James's sister loses everything in the Blitz, she comes to stay with Rose, and the two women form a surprising friendship that alters the course of all three of their lives. Shorlisted for the 2015 Governor General's Literary Award for Fiction. (HarperCollins. February.)
Empire of Deception by Dean Jobb. $18.99. During the Roaring Twenties when Al Capone dominated Chicago's underworld and party-goers thronged to the Drake Hotel's opulent banquet rooms, a smooth-talking lawyer named Leo Koretz enticed hundreds of people to invest as much as $30 million ($400 million in today's dollars) in phantom timberland and nonexistent oil wells in Panama. Jobb follows the trail of greed, extravagance and audaciousness left by one of the greatest con men of the twentieth century, the man who out-ponzied Charles Ponzi himself. (HarperCollins. January)
The End of Memory by Jay Ingram. $19.99. The award-winning Canadian science writer illuminates the mysteries of Alzheimer's disease, one of the most puzzling and debilitating conditions of the modern era. Ingram charts the history of the disease through the centuries, long before it was first described by German neurologist Alois Alzheimer in 1906, through to modern times. This illuminating biography of Alzheimer's details the scientific efforts to understand and hopefully prevent what has become "the plague of the twenty-first century." (HarperCollins. January)
Better Than Before by Gretchen Rubin. $19.95. Habits are the invisible architecture of our lives. Rubin (The Happiness Project, Happier at Home) provides an analytical and scientific framework from which to understand these habits. Infused with her compelling voice and funny stories, she illustrates the core principles of habit formation with dozens of strategies that she tests out on herself and others. Armed with self-knowledge, we can pursue the habits we want to develop in ways that will truly work for us, not against us. (Anchor. December)
The Teenage Brain by Frances Jensen. $18.99. Scientists have believed for many years that the adolescent brain is essentially no different than an adult brain. Over the past decade, however, research has shown that the teen years see fundamental physiological and neurological stages of brain development. Motivated by her experience of parenting two teenage boys, Jensen dispels commonly held myths about the teenage years and offers practical suggestions to help adults and teenagers negotiate the mysterious and magical world of adolescence. (HarperCollins. February)
Amnesia by Peter Carey. $21.00. Carey's timely novel takes us on a journey to the place where the cyber underworld of radicals and hackers collides with international power politics. When an internet virus throws open the gates at thousands of American prisons, the hacker turns out to be an unlikely young Australian woman. Journalist Felix Moore, a.k.a. Felix Moore-or-less-correct, bets what's left of his career on writing a biography that will vindicate the young woman and redeem himself in the bargain. (Vintage. December)
Romantic Outlaws by Charlotte Gordon. $24.00. This groundbreaking dual biography brings to life a pioneering English feminist, best known for A Vindication of the Rights of Women (1792), and the daughter she never knew. In 1797, less than two weeks after giving birth to her second daughter, Mary Wollstonecraft died. But another was just beginning. Wollstonecraft's daughter Mary, author of Frankenstein, followed a similarly audacious path, and each in her own time fought against the injustices women faced and wrote books that changed literary history. (Random House. February)
Missoula by Jon Krakauer. $21.95. Acquaintance rape is a crime like no other. The victim often comes under more suspicion than the alleged perpetrator. Krakauer chronicles the experiences of several women in Missoula — the town which is home to the University of Montana; their fear and self-doubt in the aftermath; the way they were treated by authorities; their bravery in pushing forward. The issue of rape, and campus rape in particular, is not confined to the U.S., of course, and Krakauer illuminates the human drama behind this pernicious plague. (Anchor. January)
17 Carnations by Andrew Morton. $19.49. Morton tells the story of the feckless Edward VIII, later Duke of Windsor, his American wife, Wallis Simpson, and the bizarre wartime Nazi plot to make him a puppet king of Britain. Drawing on FBI documents, exclusive pictures and material from the German, Russian and British royal archives, this is a saga of intrigue, betrayal, and deception suffused with a heady aroma of sex and suspicion. (Grand Central. February)
Cold War by Jerry Langton. $19.49. Organized crime in Canada has long been dominated by the Hells Angels and their friends in the Rizzuto crime family. Over the years, they have brought many street gangs into their alliance, most notably the Indian Posse and many sets of the Crips. But their strong-arm tactics have created an opposition that is now pushing back. A fascinating look at Canada's crime families, bikers and youth gangs who are waging a war for supremacy across Canada. (HarperCollins. February)
Special Deluxe by Neil Young. $24.00. Through the framework of the many vehicles he's collected and driven, Young explores his love for the vintage automobile, and examines his newfound awareness of his hobby's negative environmental impact. A candid amalgam of memories, artwork and political ponderings from one of themost enigmatic artists of our time. (Plume. December)
The Fifth Heart by Dan Simmons. $21.49. In 1893, Sherlock Holmes and Henry James come to America to solve the mystery of the 1885 death of Clover Adams, wife of the historian Henry Adams. But Holmes, who has come to the conclusion that he is a fictional character, creates problems for James. If his esteemed partner is a work of fiction, what does that make him? And is he alone in the fight against the sinister powers that may or may not be controlling them from the shadows? (Little, Brown. December)
What To READ
---
With the passing of the literary torch to a new generation, Chris Hall, a passionate reader with almost 20 years of bookselling experience, has taken up the challenge of continuing Holly McNally's stewardship of our What to Read suggestions with personal recommendations that reflect attention to the care and craft of good writing.
The Opening Sky by Joan Thomas. Softcover. $22.00. Thomas follows up her marvellous novel, Curiosity, with this contemporary tale of Liz, Aiden, and Sylvie, an urban, urbane, progressive family. Aiden's a therapist who refuses to own a car; Liz is an ambitious professional and savvy traveler with a flair for decorating; Sylvie is a smart and politically aware 19 year-old. Things seem to be going according to plan until the present and the past collide in a crisis that shatters the complacency of all three, and forces Liz and Sylvie to confront a tragedy from years before. Winner of the 2015 McNally Robinson Book of the Year Award. (McCelland & Stewart. October)
Three Light-Years by Andrea Canobbio. Softcover. $20.50. Italian novelist, Canobbio, offers up a tale of miscommunication and mistiming in his latest novel. Cecilia and Claudio are doctors in the same hospital who find themselves having lunch together every day, talking together regularly and, just possibly, falling in love. But their lives are complicated, a fact reflected by the multiple perspectives, the non-linearity of the narrative and story-lines keep refusing to totally connect. A very real story about very real characters in which the question of where this relationship will go is the suspense that draws us forward to the very end. (Picador. December)
On Immunity by Eula Biss. Softcover. $18.50. Biss, a new mother when she wrote this book, tackles the information and misinformation surrounding the effectiveness and the potential side effects of vaccinations. Rather than siding with science or conspiracy theories, she broadens our context using literature and history, and concludes that there are no easy answers, except to say that we don't get to know everything, we're vulnerable and fearful, and we always have been. The challenge we face is to reconcile ourselves to that kind of uncertainty. (Graywolf Press. September)
The Buried Giant by Kazuo Ishiguro. Softcover. $21.00. Ishiguro is back with a novel set in the mists of history and memory, in a time in England just after the reign of King Arthur. Axl and Beatrice are an old couple struggling to perceive the past clearly. The vague memory of a lost son provides the impulse to undertake a journey to visit him. On the way, they become involved with a mysterious Saxon warrior called Wistan, the old-fashioned knight Gawain, and a Saxon child, Edwin, on the run from a village where he is wanted dead. But as with all Ishiguro novels, there is more going on beneath the surface than we may at first realize. (Knopf. January)
Sweet Caress by William Boyd. Softcover. $22.99. I count William Boyd as one of my favourite novelists. He writes novels that are smart and well plotted, and they remind me of why I love reading in the first place. This new novel tells the story of Amory Clay, a photojournalist and fashion photographer, whose life touches on the key moments of the twentieth century. Along the way she becomes a woman who accepts few limits. From the time she picks up her first camera, she insists on recording her own version of events no matter what the consequences. (HarperCollins. September)
Frog by Mo Yan. Softcover. $22.00. In 2012, Mo Yan won the Nobel Prize in Literature. There was some controversy in the West that an author working under the censoring influence of the Chinese government couldn't possibly write freely. But I urge you to read his latest novel in which he explores the one-child policy in China by following the life of a midwife, Gugu. After a disastrous love affair, she throws herself into enforcing China's draconian family planning policy by any means necessary. Her blind devotion spares no one, not her own family, not even herself. It is hard to imagine a more thorough examination of and challenge to the party line. (Penguin. January)
World Gone By by Dennis Lehane. Softcover. $21.00. Lehane completes his trilogy of novels starring gangster Joe Coughlin that started with The Given Day and Live by Night. He tells an old fashioned story with a suspenseful plot but mixes in a twenty-first century awareness of consequences, both moral and psychological. The killers in Lehane don't get off easy. Instead they are fully human, with a self-awareness that makes for true tragedy and exceptionally poignant writing. (HarperCollins. January)
The Richest Man Who Ever Lived by Greg Steinmetz. Hardcover. $36.50. Never mind being a member of the one percent; how about accounting for two percent of the entire world's GDP? This is the accomplishment of Jacob Fugger, the Renaissance banker who revolutionized the art of making money and established the radical idea of pursuing wealth for its own sake. But beyond the expected vices lies a figure who also staked a claim on values we've come to cherish, ones like equality and individual rights and freedoms. In that, he reminded me of Hilary Mantel's Cromwell, a connection that made this book a more fascinating read than I was at first expecting. (Simon & Schuster. August)
History's People by Margaret MacMillan. Hardcover. $24.95. In the book version of the 2015 Massey Lectures, historian Margaret MacMillan gives her own personal selection of figures of the past, women and men, some famous and some little-known, who stand out for her. Some have changed the course of history and even directed the currents of their times. Others are memorable for being risk-takers, adventurers, or observers. Through examinations of the lives of such figures as Bismarck and MacKenzie King, FDR and Adolf Hitler, Margaret Thatcher and Samuel de Champlain, History's People is about the important and complex relationship between biography and history, individuals and their times. (House of Anansi. September)
Martin John by Anakana Schofield. Softcover. $19.95. This novel by Anakana Schofield was shortlisted for the 2015 Giller Prize. While it didn't win, this might be the bravest novel written last year. Martin John is a pervert, a character many women have experienced but few have tried to understand to the extend Schofield has. By doing so, she offers the opportunity that only literature can: there is nobody to judge.
AUTHOR OF THE MONTH

---
JANUARY
China Miéville
China Miéville, whose works include Three Moments of an Explosion, The City & The City, Embassytown, Railsea, and Perdido Street Station, is an award-winning English fantasy fiction writer. He is fond of describing his work as "weird fiction" (after early twentieth century pulp and horror writers such as H. P. Lovecraft), and belongs to a loose group of writers sometimes called New Weird who consciously attempt to move fantasy away from commercial clichés of the genre. He has stood for the House of Commons for the Socialist Alliance, and published a book on Marxism and international law. He teaches creative writing at Warwick University.
His new book, This Census-Taker, is a poignant and uncanny novella that opens in a remote house on a hilltop where a lonely boy witnesses a profoundly traumatic event. He tries, and fails, to flee. Left alone with his increasingly deranged parent, he dreams of safety, of joining the other children in the town below, of escape. When at last a stranger knocks at his door, the boy senses that his days of isolation might be over. But by what authority does this man keep the meticulous records he carries? What is the purpose behind his questions? Is he friend? Enemy? Or something else altogether? (Hardcover. $31.00. Del Rey. January)
FEBRUARY
Peter May
Peter May is the multi award-winning author of the Lewis Trilogy set in the Outer Hebrides of Scotland; the China Thrillers, featuring Beijing detective Li Yan and American forensic pathologist Margaret Campbell; the Enzo Files which is set in France but features Scottish forensic scientist Enzo MacLeod; and several stand-alone books, including the multi award-winning Entry Island which he published in 2014. One of Scotland's most prolific television dramatists, May garnered more than 1000 credits in 15 years as scriptwriter and script editor on prime-time British television drama. He is the creator of three major television series and presided over two of the highest-rated serials in his homeland before quitting television to concentrate on his first love, writing novels.
His latest standalone is Runaway, a tense crime thriller spanning a half-century of friendships set against the backdrop of two unique cities, Glasgow and London, at two transformational periods of recent history. When five teenage boys leave their homes in Glasgow in 1965 and head for London to pursue fame and fortune as a band, they discover the reality to be devastatingly different from their dreams. Fifty years later a brutal murder forces three of the boys, now in their sixties, to return to London to confront the demons which have haunted them and blighted their lives for five decades. (Hardcover. $26.99. Quercus. February)

It's Spytime with the Games of Names
---
Codenames, the number one game at GenCon 2015, is a social game of intrigue and word-play. Two teams must work to identify their secret agents using only code phrases supplied by their "Spymaster." The game takes place on a grid of words (code names), with the spymaster trying to get you to triangulate an agent's locations based on a one word clue referring to two words in play. Designed for 4 or more, but playable with even 2 players, this party hit will have you puzzling and laughing, win or lose.
For ages 14 & up. Play time 15-20 minutes. $26.50.
Louis Riel: Nation Maker

---
Louis Riel was the driving force behind Manitoba becoming Canada's fifth province. His dream of a province that embraces all cultures is still shared by Manitobans today.
Soon to be available in an English translation, Robert Freynet's graphic novel, Louis Riel, Patriot delves into the tragic life of the controversial Métis leader, the Founder of the Province of Manitoba and a Father of Confederation. Set against a backdrop of 19th century political intrigue, Louis Riel, Patriot dramatizes the story of a man who stood his ground, rallied his people and forged a nation. (Softover. $27.95. Les Éditions des Plaines. February) • Winnipeg event Feb. 11
Other related titles include Chester Brown's graphic novel Louis Riel (Softcover. $21.95), Maggie Siggins' Riel (Softcover.$21.95) and Joseph Boyden's Louis Riel and Gabriel Dumont (Softcover. $22.00).
A good source for a broad historical account of the emergence of the Métis as distinct peoples in North America is From New Peoples to New Nations by Gerhard J. Ens and Joe Sawchuk. Examining the cultural, economic, and political strategies through which comunities define their boundaries, the authors trace the invention and reinvention of Métis identity from the late 18th century to the present day. Their work updates, rethinks and integrates the many disparate aspects of Métis historiography, providing the first comprehensive narrative of Métis identity in more than fifty years.
Based on extensive archival materials, interviews, oral histories, ethnographic research, and first-hand working knowledge of Métis political organizations, From New Peoples to New Nations addresses the long and complex history of Métis identity from the Battle of Seven Oaks to today's legal and political debates. (Softcover. $48.95. University of Toronto Press. January) (This title is not eligible for the Reader Reward Discount.)
On Thursday February 4, James Wilson presents Indigenous Urban Economic Development Zones: Desire to Thrive in the Community Classroom from 7:00 to 9:00 pm. Pre-registration Required. Cost $25.00 per person. Register online >>>
The Refugee Crisis

---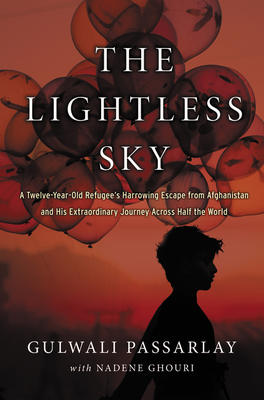 In The Lightless Sky, Gulwali Passarlay offers a firsthand look at one of the most pressing issues of our time: the modern refugee crisis, the worst displacement of men, women and children in generations. In 2006, after his father was killed, Gulwali was caught between the Taliban and the Americans. To protect her son, Gulwali's mother sent him away. The search for safety led the twelve-year-old from the mountains of Afghanistan through Iran and Europe to Britain. He endured imprisonment, hunger, cruelty, brutality, loneliness, and terror — and nearly drowned crossing the Mediterranean Sea. Eventually granted asylum in England, Gulwali learned English, won a place at a top university and was chosen to help carry the Olympic Torch in the 2012 London Games. A memoir of fortitude and survival, The Lightless Sky puts a face to this devastating humanitarian crisis. (Hardcover. $31.99. HarperCollins. January)
To charity workers, Dadaab refugee camp is a humanitarian crisis; to the Kenyan government, it's a "nursery for terrorists"; to the western media, it's a dangerous no-go area; but to its half a million residents, it is their last resort. Situated hundreds of miles from any other settlement, in the midst of the inhospitable desert of northern Kenya where only thorn bushes grow, Dadaab is a city like no other. Its buildings are made from mud and its citizens survive on rations and luck. Over the course of four years, Ben Rawlence became a first-hand witness to a strange and desperate limbo-land, getting to know many of the individuals who have sought sanctuary in the camp. In City of Thorns, Rawlence interweaves the stories of nine individuals to show what life is like in the camp and to sketch the wider political forces that keep the refugees trapped there. (Hardcover. $34.00. Knopf. January)
Zakia and Ali were from different tribes, but they grew up on neighbouring farms in the hinterlands of Afghanistan. By the time they were young teenagers, Zakia, strikingly beautiful and fiercely opinionated, and Ali, shy and tender, had fallen in love. Defying their families, sectarian differences, cultural conventions and Afghan civil and Islamic law, they ran away together only to live under constant threat from Zakia's large and vengeful family, who have vowed to kill her to restore the family's honour. They are still in hiding. Rod Nordland, then the Kabul bureau chief of the New York Times who came upon the couple and helped shepherd them to safety, tells their story in The Lovers. It is a moving story about self-determination and the meaning of love that illustrates the limits of Western influence on fundamentalist Islamic culture and the need for change. (Softcover. $24.99. HarperCollins. February)
On Wednesday, March 9 from 7:00 to 9:00 pm, join Anne Mahon in the Community Classroom for Exploring Refugees' Lives Through Their Personal Stories. Pre-registration Required. Cost $20.00 per person. Register online >>>
Difference
"If you only read the books that everyone else is reading, you can only think what everyone else is thinking." — Haruki Murakami
---
Valeria Luiselli plunges us into the mind of the self-described "best auctioneer in the world," Gustavo "Highway" Sánchez Sánchez, in her third translated work The Story of My Teeth. This book foregrounds the playfulness and experimentation that lurked beneath the surface of her English language debut Faces in the Crowd, while expanding on its examination of identity and representation.
Highway is a resolutely unreliable narrator. The author of this "dental autobiography" finds his inspiration in middle age after he has been let down by the worlds of collecting and interpretive dance. Inspired to become an auctioneer and a writer in order to replace his own sorry choppers, he becomes a master at selling the teeth of the "notorious infamous," from Plato to Petrarch, Montaigne to Woolf. Highway's picaresque story is told first by him and then by the aspiring writer Voragine, who comes across the auctioneer in dire straits. Needless to say, Voragine's own take on Highway's life differs more than a little from what we've read so far.
The slipperiness of authorial voice is apparent in the genesis of this book. A collaboration on multiple levels, The Story of My Teeth found its original form as a series of pamphlets read aloud to workers at the Jumex Juice Factory based in Ecatepec de Morelos, Mexico. Luiselli would rewrite the work based on feedback from the recorded daily meetings and has rewritten the text once again in collaboration with translator Christina MacSweeney for its appearance in English. MacSweeney also contributes her own chapter in the form of a chronology spanning both Highway's life and the historical ideas and events, trivial and earth-shattering, that ran parallel to his time on earth.
The Story of My Teeth thumbs its nose at the idea of a conventional plot. Instead, it revels in the art and power of storytelling and pays tribute to all the ways that the best tall tale can upend the reader's perception of reality. Its love of literature shines on every page and it is great fun to read. (Softcover. $23.50. Coffee House Press. September)
— John Toews
To Your Health

---
In 100 Million Years of Food, Stephen Le uses history and science to present a fascinating and wide-ranging tour of human history as viewed through what and how we eat to argue that our ancestral diets and lifestyles are the best first line of defense in protecting our health. He argues that simple prescriptions like paleo or vegan diets highjack our biology and ignore evolution, resulting in the current explosion of chronic diseases and allergies. To put it simply, the optimal diet is to eat what our ancestors ate. Le shows not just what to eat, but how our diet is the product of millions of years of evolution. (Hardcover. $32.99. HarperCollins. February)
Imagine being able to get fit and lose weight without dieting, train your immune system to fight cancer, edit your DNA to avoid a certain fate, erase the risk of a heart attack, reverse aging, and know exactly which drugs to take to optimize health. In The Lucky Years, David Agus, bestselling author of The End of Illness, unveils a brave new world of medicine, one in which we can take control of our health like never before and doctors can fine-tune strategies and weapons to prevent illness. In this new golden age, we'll be able to take full advantage of the latest scientific findings and leverage the power of technology to customize our care. (Hardcover. $36.00. Simon & Schuster. January)
The way we feel, think, look and even interact with the world is affected by the germs in and around us. Despite their reputation for making us ill, germs also keep us alive and healthy. In a series of essays, arranged into themes such as health, child care, sex and the environment, Jason Tetro advises us about germs in The Germ Files. Did you know they enjoy breast milk, and help look after our babies in return for it, but if you feed them artificial sweeteners, they're capable of showing their displeasure by making us put on weight? Citing these and other fascinating facts, Tetro argues that microbes deserve our respect and we should learn to live with them in harmony. (Softcover. Doubleday. $22.00. February)

Nieve
on display in March 2016
---
Gurevich Fine Art @ McNally Robinson is a showcase gallery located in the Winnipeg location of our Prairie Ink Restaurant. Exhibits feature four to six artists and run for three months. The art can be purchased by contacting Gurevich Fine Art.
The cold and snow comes indoors with the latest Gurevich Fine Art @ McNally Robinson exhibit, Nieve. Nieve features a diverse collection of winter-themed work from artists KC Adams, Andrew Beck, Robert Sim, Diana Thorneycroft and Bette Woodland. These artists merge in a compelling, snowy exhibit.
KC Adams is interested in socio-economic issues faced by North America's consumerist culture. Her main focus has been the investigation of the dynamic relationship between nature (the living) and technology (progress). Her intent is to create work that represents the human struggle to control our environment as well as the love/hate relationship we have over our excessive habit of consumption and conformity. Raised in a culture that emphasizes the wonders of technology, yet still romanticizes nature and the natural world, she tries to make sense of our present and future through her art.
Andrew Beck works in a cross-disciplinary method. His paintings describe a place through colour theory with special attention to relative value of the colours. In his landscape paintings, this could be described as atmospheric perspective. For Andrew, painting takes images and expands them, converting experience to art, image to surface.
Robert Sim's works are mostly done from memory, some directly from life and some from photographic references. Elements in his paintings are sometimes added, subtracted or rearranged to emphasize different features of the scene. For instance, in a painting, the colour of snow might be changed or hydro poles might be removed to make the scene more aesthetically pleasing.
Diana Thorneycroft has exhibited across Canada, the United States and Europe. She is the recipient of numerous awards and fellowships. Her provocative and intelligent photographs have caught the eyes of curators and viewers around the world.
Bette Woodland's paintings begin with a response to a particular experience of the landscape, figure or still life. Her works are not descriptive in the photo-realist sense, but evolve intuitively, guided by an involvement with quality of light used to reveal objects and as a way of making certain feelings intelligible.
Each artist's work is different from the other, but all follow a similar theme. The body of work helps the viewer see the beauty in Winnipeg's cold winter months.
Please note that Gurevich Fine Arts is a Winnipeg institution, and as such all GFA @ MRB exhibitions take place exclusively at our Winnipeg location.
See upcoming events in Winnipeg > > >
See upcoming events in Saskatoon > > >
The Espresso Book Machine
Make Your Book a Reality
---
Meet Sarah Wood and Ryan Shellenberg, our dedicated Espresso Book Machine (EBM) team.
Personable, friendly and knowledgeable, they can help you transform your novel, journal, memoir, zine, thesis, or anything else you can imagine into beautiful, perfect-bound paperback books, ready to be proudly displayed on our shelves or given as the perfect gift.
Please pick up one of our price guides in-store or visit the Self-Publishing section of our website for current pricing and services.
Ready to talk? Call 204-453-0424 ext 242 or email: [email protected]
Not in Winnipeg? No problem. We often work with people from all over Canada.
New Fiction to Warm Up Your Winter Nights

---
International bestselling author of The Elegance of the Hedgehog, Muriel Barbery, returns with The Life of Elves, a lyrical novel about the quest for enchantment in a world that has forgotten about such things. Two children whose extraordinary talents (Maria, who has a gift for communicating with nature, and Clara, who discovers she is a musical genius) grant them access to worlds that share both magical and malevolent forces. If, against all odds, they can be brought together, their meeting may shape the course of history. (Softcover. $20.00. Europa Editions. February)
Lucy Barton is recovering slowly from what should have been a simple operation. Her mother, to whom she hasn't spoken for years, comes to see her. Gentle gossip seems to reconnect them, but below the surface lies the tension and longing that have informed every aspect of Lucy's life. My Name Is Lucy Barton by Pulitzer Prize-winner Elizabeth Strout shows how a simple hospital visit becomes a portal to the relationship between a mother and daughter in this keenly observant and deeply human novel. (Hardcover. $34.00. Random House. January)
At the New York Public Library, Herbert, a former Austrian official, finds a small bundle with his deformed cousin Anna tucked inside. Called Rat for the white whiskers that frame her mouth, she has been mysteriously delivered from Leningrad. But Rat is not the only person seeking Herbert's help. Unspeakable Things is a daring debut from the award-winning poet Kathleen Spivak, who uses magic realism to explore the plight of post-World War II Jewish refugees in Manhattan. (Hardcover. $33.95. Knopf. February)
England, 1976. Mrs Creasy is missing and The Avenue is alive with whispers. As the summer shimmers endlessly on, ten-year-olds Grace and Tilly decide to take matters into their own hands in Joanna Cannon's debut novel The Trouble With Goats and Sheep. But as the cul-de-sac starts giving up its secrets, the amateur detectives find much more than they imagined. "Part whodunnit, part coming of age, this is a gripping debut about the secrets behind every door." — Rachel Joyce (Softcover. $21.99. HarperCollins. February)
Canada's Cold War

---
Cold Fire: Kennedy's Nothern Front by John Boyko explores the crucial period during the Kennedy years when America and its allies were fighting the Cold War's most treacherous battles, Canadians were trading sovereignty for security, and everyone feared a nuclear holocaust.
At the centre of the story are three leaders. President John F. Kennedy pledged to pay any price to advance his vision for America's defence and needed Canada to step smartly in line. Fighting him at every turn was Conservative prime minister John Diefenbaker, an unapologetic nationalist trying to bolster Canada's autonomy, while Liberal leader Lester Pearson, the Nobel Prize-winning diplomat, sought a middle ground. In telling this story, Boyko employs newly released documents to present a number of shocking revelations. For example, Kennedy knew the nuclear missiles he was trying to force on Canada would be decoys intended only to draw Soviet nuclear fire; Kennedy's political adviser travelled to Ottawa under a fake passport to help defeat the Canadian government; and perhaps the most startling revelation of all, if not for Diefenbaker, Kennedy may have survived the bullets in Dallas. (Hardcover. $35.00. Knopf. February)
Travel in Style and with Convenience

---
Our RFID-safe travel accessories can help make your next trip a better experience. Protect your credit cards and electronic devices from radio-frequency intrusions. Items a) through d) are RFID.
a) Safe stylish leather bags and totes for men and women, Nappa, $124, $190
b) Crossbody tote, Landau Sacamoto $64
c) Passport holders and men's wallets, leather from Nappa $48
d) Passport holders, Baggallini in red and black $38
e) Sasaki Traveller's notebooks, customizable, in brown or black leather from $58
(Please visit us in-store to browse these products.)

Got the Travel Bug?

---
Having travelled to over one hundred countries on six continents, international travel guru Robin Esrock, author of The Great Canadian Bucket List, turns his attention to the Canadian prairies in his latest book The Great Canadian Prairies Bucket List.
Esrock has spent years personally discovering these one-of-akind destinations and activities you have to try in Manitoba and Saskatchewan: float in "Canada's Dead Sea," track polar bears along Hudson Bay, ride a horse through herds of free-roaming bison, uncover ancient archaeological mysteries in Winnipeg, learn what it takes to join the Royal Canadian Mounted Police, witness the largest gathering of snakes in the world, party with the wildest sports fans in Canada, bask on a tropical beach — on a prairie lake.
Bundled with an extensive companion website, The Great Canadian Prairies Bucket List provides all the inspiration and information you'll need to follow in his footsteps. (Softcover. $19.99. Dundurn. February)
Written in the irreverent style that made How to Talk About Books You Haven't Read a critical and commercial success, Pierre Bayard takes readers on a trip around the world, giving us essential guidance on how to talk about all those fantastic places we've never been. Practical, funny and thought-provoking, How to Talk About Places You've Never Been is a delightful and informative experience for armchair globetrotters and jet-setters, all while never having to leave the comfort of the living room.
Bayard examines the art of the "non-journey," a tradition that a succession of writers and thinkers, unconcerned with moving away from their home turf, have employed in order to encounter the foreign cultures they wish to know and talk about.
How to Talk About Places You've Never Been is a delightful book that expands any travel enthusiast's horizon well beyond the places it's even possible to visit in a single lifetime. (Hardcover. $28.00. Bloomsbury. February)
Retirement Questions, Retirement Answers

---
Conceived and written for those men about to retire, or already in retirement, and the women and men who live with them, Ready to Retire? by Lyndsay Green helps people understand what they and their partners are going through as they meet the new reality of life beyond the workplace.
Because of the traditional view of the man as bread winner, men have a particularly hard time making the retirement adjustment as they so often completely self-identify with their work. In light of this cultural trend, Green demystifies retirement for men and their partners, and provides an engaging and uplifting portrait of the emotional landscape of men in their sixties and seventies. (Softcover. $19.99. HarperCollins. January)
Retirement planning is difficult enough without having to contend with misinformation. The Essential Retirement Guide by Frederick Vettese shows how you can estimate your own lifespan and helps you to understand the financial implications of long-term care. Most importantly, it reveals how you can calculate how much money you will need by the time you retire to live comfortably. Vettese uses his actuarial expertise to substantiate his findings but does so in a jargon-free way. (Softcover. $27.95. Wiley. December)
Keep It Simple

---
In Spark Joy, master organizer Marie Kondo, the bestselling author of The Life-Changing Magic of Tidying Up, presents an in-depth, illustrated manual on how to declutter and organize specific items throughout the house, from kitchen and bathroom items to work-related papers and hobby collections. User-friendly line drawings illustrate Kondo's patented folding method as it applies to shirts, pants, socks and jackets, as well as images of properly organized drawers, closets, and cabinets. (Hardcover. $24.99. Ten Speed Press. January)
Also available is Marie Kondo's Life-Changing Magic, a 3-year companion journal to The Life-Changing Magic of Tidying Up. Kondo encourages readers to expand the scope of her patented "spark joy" principle not only to one's objects but also one's activities, relationships and experiences. With prompts like: "Does it spark joy?," "Identify what is truly precious," and "Pursue ultimate simplicity," this elegantly designed journal fosters a daily practice of gratitude, happiness, and focus on the things that create a joyful life. (Softcover. $21.99. Ten Speed Press. January)
OUR SIGHTS & SOUNDS

---
The Rolling Stones. From the Vault: Live at Leeds 1982. DVD & 3LP Set $49.99. Taken from the Rolling Stones' performance at Roundhay Park in Leeds, England on July 25th 1982, this show was the last concert on their 1982 European Tour in support of 1981's Tattoo You album, and would mark the end of their last live tour for seven years. About half of the Tattoo You album is included in the set including the hit single "Start Me Up." The footage has now been carefully restored and the sound has been newly mixed by Bob Clearmountain for this first official release of the show. (Universal. January)
Miloš. Blackbird: The Beatles Album. CD $14.99. After delighting audiences with the core-classical heritage of the guitar in his three previous albums, award-winning guitarist Miloš Karadaglić changes direction to perform innovative new arrangements of songs by the Beatles in collaboration with celebrated artists such as Tori Amos, Anoushka Shankar, Sergio Assad and Steven Isserlis from the pop, jazz, classical and world music fields. Songs include "Blackbird," "Come Together," "While My Guitar Gently Weeps," "Eleanor Rigby," "Fool on the Hill" and many others. (Universal. January)
Tony Bennett & Bill Charlap. The Silver Lining. CD $14.99. The new album from musical legend Tony Bennett and acclaimed jazz pianist Bill Charlap celebrates the songs of Jerome Kern, one of the 20th century's most important American composers of musical theatre and popular music. Kern was a major force on Broadway and in Hollywood musicals in a career that spanned more than four decades. While many of his Broadway musicals and Hollywood films were contemporary smash hits, Kern is perhaps best remembered today through revivals of Show Boat, one of his signature achievements. (Columbia. November)
Chic Gamine. Light A Match. CD $16.99. It has been a five-year gap between studio albums for the highly regarded femme-fronted Chic Gamine. The third album by the Montreal/Winnipeg combo shows an amped-up, fleshed-out side of the band, one they say is truer to the vision of themselves, one they needed time to evolve into. Though maintaining their choral-style soul-pop sound, the songs here are stylistically diverse, covering folk, pop and r'n'b. The result is a lush album, filled with emotive and catchy tunes that tell stories that add dimension to women's lives. (Indie. November)
This Changes Everything directed by Avi Lewis. DVD. $19.99. Filmed on five continents over four years, This Changes Everything is an epic attempt to re-imagine the vast challenge of climate change. Inspired by Naomi Klein's bestseller This Changes Everything, the film presents seven powerful portraits of communities on the front lines, from Montana's Powder River Basin to the Alberta Tar Sands, from the coast of South India to Beijing and beyond. Interwoven with these stories of struggle is Klein's narration, connecting the carbon in the air with the economic system that put it there. (Video Service Corp. January)
The Assassin directed by Hou Hsiao-hsien. Blu-ray. $29.99. 9th century China. 10-year-old general's daughter Nie Yinniang is abducted by a nun who initiates her into the martial arts, transforming her into an exceptional assassin charged with eliminating corrupt local governors. One day, having failed in a task, her mistress orders her to kill the man to whom she was promised. After 13 years of exile, the young woman must confront her parents, her memories and her longrepressed feelings and choose to sacrifice the man she loves or break forever with the sacred way of the righteous assassins. (Well Go USA. February)
The American Friend directed by Wim Wenders. Blu-ray. $42.99. Wenders pays homage to Hollywood film noir in this 1970s classic, a loose adaptation of Patricia Highsmith's novel Ripley's Game. Dennis Hopper (Easy Rider) oozes quirky menace as an amoral American art dealer who entangles a terminally ill German everyman, played by Bruno Ganz (Wings of Desire), in a seedy criminal underworld as revenge for a personal slight. But when the two become embroiled in an ever-deepening murder plot, they form an unlikely bond. Filmed on location in Hamburg, Paris and New York City. (Criterion. January)
The Look of Silence directed by Joshua Oppenheimer. Blu-ray. $37.99. Oppenheimer's powerful companion piece to The Act Of Killing documents the Indonesian genocide of 1965. A family of survivors discovers how their son was murdered, as well as the identities of the killers. The film focuses on the youngest son, an optometrist named Adi, who breaks the spell of submission and terror by doing something unimaginable in a society where the murderers remain in power: he confronts the men who killed his brother, and while testing their eyesight, asks them to accept responsibility for their actions. (Cinedigm. January)
McNALLY ROBINSON for babies
Baby toys, teddy bears, clothing, gifts, and, of course, books in our baby boutique
---
First Concepts

---
Make learning fun with Aino-Maija Metsola's stylish, tactile board book Colors. Every page is themed by colour and filled with objects to see and say. There's an odd one out on every page. Can you find it? (Board Book. $10.99. Wide Eyed Editions. February) (Ages 2-5)
Also from Aino-Maija Metsola, Counting is a lift-the-flap board book to help little ones learn to count from one to ten. Journey through the numbers and see and say objects along the way. Also count the animals and lift the flaps to discover surprises on every page. (Board Book. $10.99. Wide Eyed Editions. February) (Ages 2-5)
One becomes many in One and All, a beautiful picture book by Élisa Géhin about the relationship between the whole and its parts. Bold illustrations, hand-lettered text and gatefolds serve to order and illustrate collections of people, things, animals, and plants, offering young readers a better sense of their own place in the world. (Hardcover. $17.95. Abrams. February) (Ages 3-5)
Uncle Goose Alphabet Blocks

---
When teaching your child how to read, write, sort and just have fun, nothing beats simplicity. This set of blocks features big, bold lettering in both uppercase and lowercase, with bright colours to draw your child's attention. Includes one complete embossed uppercase alphabet and one complete printed lowercase alphabet with some extra vowels thrown in. $28.00 (Please visit us in-store to find this product.)

Naptime!

---
Shhh! This Book is Sleeping by Cedric Ramadier, illustrated by Vincent Bourgeau. Hold this book gently because it's very sleepy! A mouse inside the pages invites you to read the book a bedtime story, tuck it in with a cozy blanket, and give it a hug and a kiss. Oh, and don't forget to ask whether it brushed its teeth and went pee-pee! Then turn off the light. Shhh! (Board Book. $11.99. Random House. January) (Ages 1-3)
It's naptime, and Cat is ready for Kitten to settle down. But Kitten has other ideas! Tony Yuly's Cat Nap is filled with opposites (big and little, black and white, sleepy and awake), simple concepts that come alive for the youngest readers through bold art and charming language. (Board Book. $19.50. Feiwel & Friends. February) (Ages 1-3)
"Rock-a-bye, Baby, in the treetop. How did you ever get so high up?" Rock-a-Bye Romp by Linda Ashman, illustrated by Simona Mulazzani weaves a gentle fantasy around the baby who finds himself in that very predicament! A marvelous adventure ensues, taking Baby from the tree branches to a ride down the river, and finally on a flight through the night sky into the safety of Mama's arms. (Picture Book. $21.99. Putnam. January) (Ages 1-3)
Assorted Mobiles by Ostheimer

---
Ostheimer Mobiles, crafted in Germany, are carefully painted and designed by hand. A beautiful and artistic element to enhance any child's room. Prices range from $35.00 to $55.00.
McNALLY ROBINSON for kids

---
Kindred Souls
---
Pax by Golden Kite Award-winning author Sara Pennypacker and illustrated by Jon Klassen, winner of both the American Caldecott Medal and the British Kate Greenaway Medal for children's book illustration, is a beautifully wrought, heartbreaking novel about the powerful relationship between a boy and his fox.
Pax and Peter have been inseparable ever since Peter rescued him as a kit. But one day, the unimaginable happens: Peter's dad enlists in the military and makes him return the fox to the wild. At his grandfather's house, three hundred miles away from home, Peter strikes out on his own despite the encroaching war, spurred by love, loyalty, and grief, to be reunited with his fox. Meanwhile Pax, steadfastly waiting for his boy, embarks on adventures and discoveries of his own. (Hardcover. $21.00. HarperCollins. February) (Ages 9-13)
DESTINY: A Writing Contest for Grades 5 & 6

---
McNally Robinson Booksellers and Scholastic Canada invite Manitoba and Saskatchewan's grade 5 and 6 students to enter our annual writing contest. This year the theme is DESTINY — what will happen, what was meant to be, and how it did (or did not) come to pass. Is the future already written or can it be shaped? If you could change your destiny, would you?
We are excited to announce that this year's special guest judge is Tui T. Sutherland, author of the New York Times bestselling Wings of Fire series. Look below for more info on Tui, as well as exciting news about the latest novel in the series, Escaping Peril, on sale January 5.
Writing submissions should be between 500 and 1000 words, and may be fiction or nonfiction.
Entries will be accepted in-store or via email (Winnipeg: [email protected], Saskatoon: [email protected]) until 10:00 pm on Thursday March 24, 2016. Winners will be announced on Monday April 18, and prizes awarded at a celebration, Wednesday April 27, 2016.
For more information, visit the Kids desk on the mezzanine or call: Winnipeg 204-475-0492, Saskatoon 955-1477.
Tui T. Sutherland

---
Named after a rather noisy New Zealand bird, Tui was born in Venezuela. She lived in Paraguay, Florida, and the Dominican Republic before her family moved to the United States. She currently lives in Massachusetts with her husband, two adorable sons and a very patient dog.
Sutherland is the author of several books for young readers, but her Wings of Fire series, featuring seven dragon tribes that have been locked in battle over an ancient treasure for generations, has made her a bestselling author whose fans eagerly await her next book.
Wait no more. Escaping Peril, the eighth book in the Wings of Fire series, releases in January.
Peril has been loyal to Queen Scarlet, who used her fatal firescales to kill countless dragons in the SkyWing arena. Now, Peril is loyal to Clay, the only dragonet who has ever been her friend. So when Scarlet threatens Jade Mountain Academy, Peril sets off to find her former queen, stop her, and save the day, no matter what it takes. (Hardcover. $21.99. Scholastic. January) (Ages 8-12)
Super Heroes

---
In advance of the new Batman movie coming out in March comes a picture book version of Batman's Dark Secret by Kelley Puckett with new illustrations by Caldecott Honor-winner Jon J. Muth.
One day, a lonely orphan named Bruce Wayne finds himself in a dangerous situation. He defends himself against a monster bat, and he wins. From that time on, he is determined to fight evil. He becomes…Batman!
Batman's Dark Secret is an inspiring story of how a young child overcame his fear of the dark and became a crimefighting superhero. (Hardcover. $22.99. Scholastic. January) (Ages 5-7)
Young Batman, Superman, and Wonder Woman start their own Junior Detective Agency in the graphic novel Secret Hero Society, the first book in the new Study Hall of Justice series by Derek Fridolfs and illustrated by Dustin Nguyen. Being the new kid at school is tough, especially when your school is called Doomvale Academy and your name is Bruce Wayne. For starters, a gang of jokers is roaming the halls and your headmaster Hugo Strange seems really, well, strange.
Follow young Bruce Wayne and his friends Clark (Superman) and Diana (Wonder Woman) as they go sleuthing to find out what's going on behind closed doors at Doomvale Academy. (Hardcover. $16.99. Scholastic. February) (Ages 8-12)
The Official DC Super Hero Cookbook by Matthew Mead comes complete with more than 50 simple, tasty recipes as well as 4 cookie cutters (a bat, a lightning bolt, a shield and a star), logo stencils and character cut-outs for awesome food styling.
Inspired by DC's characters, these recipes are fun to prepare and to eat. Step-by-step instructions are easy to follow and fans of all ages can enjoy flipping through photos featuring classic DC comics art and action figures. An extensive super hero party section offers dozens of drinks, snacks, and desserts as well as cool, clever serving suggestions. (Spiral Bound. $29.99. December) (Ages 6 & up)
Stay Cozy with a Book

---
Slush Mountain by Bjørn Rune is a funny and loving picture book that offers an irreverent tribute to winter cabin and ski culture, from hot chocolate and snowmen to daredevil show-offs and silly fashion choices. The grand illustrations follow a day in the life of the various odd creatures who live in a quirky remote mountain village. Witness Bruce "the Spruce" Crampon skiing off a cabin roof, the ski patrol monitoring the slopes, old "Snow-Blind" Jefferson ice fishing, a snowmobile gangmeeting up at the slope-side grill, and many more. There's something for everyone on Slush Mountain! (Hardcover. $19.95. Simply Read. December) (Ages 4-8)
Stína lives in Iceland, but she does not like the cold and does everything she can to avoid it. One extremely cold day, when Stína has retreated under her thick down comforter and fallen into a deep sleep, she is awakened by a pounding at the door. When she opens it, two children tumble in, blown by the icy wind, but they aren't cold — they're warm from playing outside! Finally, Stína learns that nothing can keep you as warm as friendship. With its clever instructions for knitting with your fingers, plus a recipe for hot chocolate, Stina by Lani Yamamoto is the perfect picture book for cold winter days. (Hardcover. $21.95. V & A Publishing. December) (Ages 4-8)
Back before Odd Duck, before Robot Dreams, Sara Varon created Sweaterweather and Other Stories. This quirky volume combines short comics stories, essays, and journal entries, and invites the reader into the world of Sara Varon: where adorable anthropomorphic animals walk the streets of Brooklyn and a surprising, sideways revelation is waiting around every corner. This new edition of Varon's 2003 classic about a turtle, a rabbit, and other sweet creatures on a snowy journey introduces Sweaterweather to a new generation of readers in a jacketed hardcover with plenty of new content. (Hardcover. $22.99. First Second. February) (Ages 8-14)
The 'I Love Reading' Book Club

---
The I Love Reading Book Club is a discussion group for enthusiastic readers in grades 4 to 6. Led by our own bookseller Cathy, book club members meet three times on Tuesdays from 6:45-7:30 (February 16, March 1, March 15) to discuss three separate books. Be sure to sign up to discuss some really fantastic reads with some really great people! The cost to join is $32.00, which includes the price of the books. Pre-registration is required. Please contact the Kids Service Desk at 204-475-0492 for more information. Winnipeg location only.
Alice Kuipers' New Picture Book is a Truly Enchanted Tale

---
Violet and Victor work together to write a truly enchanted tale in the second picture book in the series, Violet and Victor Write the Most Fabulous Fairy Tale, by Saskatoon author Alice Kuipers, with illustrations by Bethanie Deeney Murguia.
Violet is determined to write the most fabulous fairy tale that has ever been imagined. Her twin, Victor, is not in the mood for make-believe.
"I was born in a castle!" Violet says.
"You were born in a hospital," Victor replies.
But when an evil witch arrives in Violet's story, will Victor help write an ending that saves the day? Join the twins on an adventure through Fairy Tale Kingdom as they celebrate the joy of storytelling and reading! (Hardcover. $19.00. Little, Brown. January)
Storytime

---
WINNIPEG
Musical Storytime, a three week program of stories, songs, and movement for toddlers aged eighteen months or older and accompanied by an adult. The group meets on three sequential Mondays from 10:00 to 10:30 am. There are four sessions: January 4, 11, 18; January 25, February 1, 8; March 7, 14, 21; April 4, 11, 18. Registration is $20 per child. For more information contact the Kids desk at 204-475-0492.
SASKATOON
Every Tuesday morning at 10:30 am for children ages 3 to 5. Join Fay in McNally Robinson for Kids for delightful storytime mornings. No registration required.
Happy Retirement, Lynn!

---
All of us at McNally Robinson wish Kids' Manager Lynn Popham a Happy Retirement. Lynn came on board in June 1990 as our Storytime storyteller at the Kenaston store. Her vision, extraordinary organizational skills and most of all, her sincere and caring ways with customers, suppliers and staff resulted in the creation of what we declare to be the best children's bookstore in the city. We heartfully thank you, Lynn, for your years of dedication to McNally Robinson Booksellers. We will always remember, "A person's a person, no matter how small." — Horton Hears a Who by Dr. Seuss.
The Kid's Watch List

---
TEEN SCENE

---
The Second World War

---
Issues surrounding the horrors of war have plagued young and old for millennia. Our teen fiction expert, Joan, has her eye on two new titles coming out in the New Year that she thinks are outstanding novels set among the conflicts of World War II.
Kraków, 1939. A million marching soldiers and a thousand barking dogs. This is no place to grow up. Anna Łania is just seven years old when the Germans take her father during their purge of intellectuals in Poland. She's alone. And then Anna meets the Swallow Man. In Gavriel Savit's debut novel, Anna and the Swallow Man, Anna is led through war-ravaged Poland during WW II by a mysterious scientist. Over the course of their travels together, they dodge bombs, tame soldiers, and even, despite their better judgment, make a friend. But in a world gone mad, Anna struggles to learn what it take to survive in the face of overwhelming pain and loss. (Hardcover. $23.99. Random House. February).
In 1942 a court decision makes women eligible for military service as the unproven American army goes up against the armed forces of Nazi Germany. Three girls, each with their own dreams and aspirations, sign up to fight. Michael Grant imagines what army life would have been like if American women had been able to fight alongside men in WW II in his new novel, Front Lines. Would there have been less racism, sexism and anti-Semitism? But war is war, and it's not how you play the game that's important. Or is it? (Hardcover. $23.99. HarperCollins. February)
Known Names, New Narratives

---
When authors re-imagine historical figures in a novel, the results can give a depth to the issues that other works of fiction can't always match. Joan, our teen fiction expert, recommends two new titles that explore the worlds of a famous family of writers on the one hand and a notorious English pirate on the other.
As teenagers, the famous Brontë siblings slipped easily from their hard, thin reality to their richly imagined story worlds. In Worlds of Ink and Shadow, Lena Coakley exposes the narrow red line between their genius and madness. (Hardcover. $19.99. HarperCollins. January)
In Blackhearts by Nicole Castroman, you can settle into the gripping story of how the wealthy son of a successful merchant gives up all prestige and money, setting sail to pursue the captors of the woman he loves. He becomes the most infamous, fearsome pirate of all times: Blackbeard. (Hardcover. $23.99. Simon & Schuster. February)
The "Be First" Book Club

---
Our "Be First" reading group for teens is a book club with a difference. Receive a preview copy of a selected title, read the book before it even hits the shelves, then join us to discuss it.
The registration fee is $5.00. The pre-publication copies are limited. Please sign up ASAP. For more information, visit the Kids desk or call 204-475-0492. Winnipeg location only.
January

Salt to the Sea by Ruta Sepetys shines a light on one of the most devastating, yet unknown, tragedies of World War II. As the war draws to a close in East Prussia, thousands of refugees are on the march. Forced by circumstance to unite, three young women find their strength, courage and trust in each other tested as they struggle to reach safety. (Hardcover. $24.99. Philomel. February) Our discussion group meets Thursday, January 21 at 7:00 pm.
February

In Riders, the new fantasy adventure from bestselling author Veronica Rossi, nothing but death can prevent Gideon Blake from achieving his goal of becoming a U.S. Army Ranger. As it turns out, it does. Recovering from the accident that most definitely killed him, Gideon finds himself with strange new powers and a bizarre cuff he can't remove. (Hardcover. $20.50. Tor. February) Our discussion group will meets Thursday, February 18 at 7:00 pm.
The Teen Watch List

---
Our Vibrant Communities
What's coming up in Winnipeg & Saskatoon
---
WINNIPEG
• The MCO presents Alain Trudel et al
January 12. With conductor Alain Trudel at the helm, the Manitoba Chamber Orchestra serves two double concertos, with a side of percussion. No less than five Winnipeg soloists — including Kerry DuWors, Patricia Evans, Caroline Oberheu, Victoria Sparks, and Karl Stobbe — perform concertos by Leopold Mozart (Concerto for Two Horns and Strings in E Flat Major), Bach (Concerto for Two Violins in D Minor), and Sid Robinovitch (Concerto for Percussion and Strings). Tickets available at McNally Robinson. themco.ca
• Billy Eliot The Musical
January 12-February 6, The Royal Manitoba Theatre Centre. Despite the bitterness of the UK miners' strike, Billy seems destined to follow his father and brother to the coal mines. But when he stumbles into a ballet class, his eyes are opened to a whole new world of opportunity. With unforgettable music by Elton John and sensational dance, Billy Elliot The Musical is a feel-good celebration that shows us what it means to fight for our dreams. mtc.mb.ca

• Spin
January 13-31, Prairie Theatre Exchange. Go on a theatrical and musical journey in Spin, Evalyn Parry's tour-de-force performance celebrating the Bicycle as muse, musical instrument and agent of social change. Parry's co-star is a vintage bicycle played by percussionist Brad Hart, who conjures an astonishing array of sounds on his "iron horse," creating a richly textured and utterly unique sonic accompaniment to Parry's songs and monologues. pte.mb.ca

• Bouffe
January 14-30, Centre Culturel Franco Manitobain. This high-energy, hilarious and interactive production from New Brunswick introduces us to Bazil and Mortadel, the endearing yet repulsive chefs who are preparing a feast for their audience. From one course to the next, they push the envelope to a place where ridiculous and disturbing meet. Bouffe is a culinary journey into the absurd where no one is safe. ccfm.mb.ca

• Misfit Blues & Thin Ice
January 21-23, The Rachel Browne Theatre. Winnipeg's Contemporary Dancers and Fortier Danse-Création co-present Paul-André Fortier's Manitoba Premiere of Misfit Blues and the remount of Thin Ice. Sublime misfits, Fortier and Regina's incandescent Robin Poitras, get wild and silly in an "intoxicating ride through the incomprehensible abstractions and piercing truths of two people experiencing themselves as a unity." — BWW Review winnipegscontemporarydancers.ca

• Winnipeg New Music Festival
January 23-29. Centennial Concert Hall. It's their 25th anniversary and the Winnipeg New Music Festival is throwing a party. All past composers-in-residence including Glenn Buhr (co-founder with Bramwell Tovey of the WNMF), Randolph Peters, Pat Carrabré and Vincent Ho will be represented with conductor Gary Kulesha. The Concert Hall will be flipped on its head with all seating on stage for mid-week concerts. Plus food, art, adventure, discovery, parties and more. wnmf.ca

• AyckbournFest, the 16th Annual Master Playwright Festival
February 3-21, various venues. A legend of West End theatre, British playwright Sir Alan Ayckbourn has written and produced more than 70 full-length plays that have appeared on London's most prolific stages. The 16th annual Master Playwright Festival highlights his extensive body of work that spans several decades and has earned more than 35 awards – including two Oliviers, two Molières and a Tony. mtc.mb.ca

• Ironman Outdoor Curling Bonspiel
February 5-7. The annual Ironman Outdoor Curling Bonspiel is a not-for-profit event raising money for the Heart and Stroke Foundation of Manitoba. The event is held each year in February on the Assiniboine River at The Forks. ironmancurling.com

• The Power of Harriet T
Manitoba Theatre for Young People, February 5-7, 13-14. A moving story of courage and perseverance, The Power of Harriet T is based on the life of Harriet Tubman, who fled slavery and risked her life to help others find safe haven in Canada via the Underground Railroad. mtyp.ca

• Festival du Voyageur
February 12-21, Voyager Park and other official sites. Every winter since 1970, Saint-Boniface, Winnipeg's French quarter, is transformed into a winter paradise and becomes host to the largest winter festival in Western Canada. festivalvoyageur.mb.ca

• Andre Laplanté
Virtuosi Concerts present renowned pianist Andre Laplanté in Eckhardt-Gramatté Hall at The University of Winnipeg, February 13, 8:00 pm. For a lifetime of outstanding achievement, André Laplante was appointed an Officer of the Order of Canada in 2005. He has played all over the world and exhausted the superlatives of the critics. virtuosi.mb.ca

SASKATOON
• Playing With Fire: The Theo Fleury Story
January 13-31, Persephone Theatre. This award-winning play, developed with Fleury himself, tells the inspiring story of how a 5'6" Metis from Manitoba beat all challenges to become an NHL star. Playing in over 1,000 games and scoring over 1,000 points, Fleury won a Stanley Cup in his rookie year and an Olympic gold medal with Team Canada. Performed entirely on hockey skates and synthetic ice, Playing with Fire is a triumph of one man's spirit. Starring Shaun Smyth as Theo Fleury. persephonetheatre.org
• Saskatoon Symphony Orchestra — Music Talk
January 19, 7:00 pm, McNally Robinson Booksellers, 3130 8th Street East at Circle Drive. Join Saskatoon Symphony Orchestra Maestro Eric Paetkau in conversation with Executive Director Mark Turner about North of the 49th. Hear how the most unique concert the SSO has ever done came to be, and maybe they'll share stories of their recent trip to New York to visit Carnegie Hall. Learn more about the music before it hits the stage. A journey to the great north of Canada, North of the 49th is unlike any other orchestra concert as it winds it way from the sound of drums through Grieg's Peer Gynt Suite through the music of Canadian composers Andrew Balfour, Barbara Croall, and Derek Charke (January 23). saskatoonsymphony.org
• Winterruption!
January 21-23. Break up the winter chill with three days of live music at venues throughout Saskatoon and Regina. Presented by The Broadway Theatre, in conjunction with CFCR 90.5 FM — Saskatoon Community Radio, Planet S Magazine and the Regina Folk Festival, Winterruption! features acts like Whitehorse, Fred Penner, The Dears, The Harpoonist and the Axe Murderer, and more. broadwaytheatre.ca and reginafolkfestival.com
• PotashCorp Wintershines Saskatoon
January 23-31. If you are up for some winter fun, enjoy nine days featuring such things as ice carving, an awesome ice park, winter camp, soup cook-off, Ice Jam and more. potashcorpwintershines.ca
• Frosted Gardens at the Delta Bessborough
January 29-February 19. Monday to Friday 6:00 pm-10:00 pm. Saturday, Sunday and Holidays Noon-10:00 pm. Come and see how the Delta Bessborough Gardens have been transformed into a shimmering winter wonderland with ice carvings, children's activities, light, colour and music. Attend the Sneak Preview on January 29th to see carvers put finishing touches on the exhibit. Or come during regular hours and play a round of Snow Golf or make a Maple Sugar treat at the new Sugar Shack. frostedgardens.org
• Ballet Jörgen's Sleeping Beauty
January 31, 7:30 pm. TCU Place/Sid Buckwold Theatre. Canada's Ballet Jörgen presents its own rendition of Sleeping Beauty, one of the world's most famous classical ballets. The enchanting story of Aurora and her prince is danced to the original 1890 score by Tchaikovsky, and features local dancers performing alongside the company dancers. balletjorgen.ca
• Saskatchewan Equine Expo
February 12-14, 9:00 am-9:00 pm. Saskatchewan Equine Expo is a 3 day event being held at the Prairieland Park in Saskatoon. This event showcases products, services and the latest developments in equine health, as well as the best techniques and latest technology concerning horse industry. saskatchewanequineexpo.ca
• The Saskatoon Blues Festival
February 22-28, Park Town Hotel and TCU Place. The Saskatoon Blues Festival explores the diversity and scope of that multi-faceted music genre known as "The Blues." The Festival features some of Canada's best musical talent, along with International artists. Join the party downtown in the heart of Saskatoon. tourismsaskatoon.com
• Live Five Independent Theatre Presents
Live Five is a non-profit organization that provides a home for local professional theatre artists to develop their careers in Saskatchewan. Aiden Flynn Lost His Brother So He Makes Another by Nathan Howe and Morgan Murray and produced by Theatre Howl, is an award-winning story about love, loss, and family told through movement, music and shadow puppetry (January 8 – 17). Blood: A Scientific Romance by Meg Braem, produced by Sparrow & Finch Theatre, is a tale of medical suspense set in the 1960s in a secluded prairie hom-eturned-laboratory (February 25 – March 6). livefive.ca
---
OUR JANUARY FEATURE COOKBOOK EXPLORES CUISINES FROM THE MIDDLE EAST TO THE FAR EAST
All through January, Prairie Ink Restaurant & Bakery is featuring Chef Specials inspired by recipes from NOPI (Hardcover. $45.00. Appetite. October), a collection of 120 recipes by Yotam Ottolenghi, founder of the acclaimed London restaurant, and NOPI head chef Ramael Scully. Pandan leaves meet pomegranate seeds, star anise meets sumac and miso meets molasses in a rotating menu of Prairie Ink Chef Specials that span cuisines from the Middle East to the Far East, and featuring big, bold flavours with surprising twists along the way.
INTERNATIONAL YEAR OF PULSES, THE MANITOBA LAUNCH
Wednesday January 6, at twelve noon in the Atrium at McNally Robinson Booksellers in Winnipeg. Please join us to launch the International Year of Pulses in Manitoba, a year-long initiative to raise awareness and consumption of nutritious, provincially-grown pulse crops. Sample delicious foods made from high-fibre, high-protein pulses including beans, peas, chickpeas and lentils. Learn why the United Nations sees pulses as key in eradicating hunger world-wide and addressing chronic health conditions, including heart disease, obesity and diabetes. Help Manitoba Pulse and Soybean Growers spread the message that pulses are good for people and good for the planet.
At our Winnipeg location, enjoy a rotating menu of delicious Chef Specials featuring Manitoba-grown pulses throughout January. Pulses not only taste good, they are good for you and the environment.
PRAIRIE INK SASKATOON HAS A NEW MENU
Prairie Ink Restaurant & Bakery in Saskatoon launched its new menu on December 7. If you haven't visited us in a while, stop in and check it out, or visit this page to see what you're missing.
LET'S LEARN AT PRAIRIE INK: VALENTINE'S DAY CHOCOLATE & WINE PAIRING DINNER
The Community Classroom and Prairie Ink Restaurant & Bakery Winnipeg join forces to present a memorable Valentine's Day dinner on Sunday February 14 from 6:00 to 9:00 pm. Chocolate expert Doreen Pendgracs and wine expert Honoure Black host a romantic four course dinner and wine pairing. Chocolate taste sensations, from light and velvety to wild and intense, will be incorporated into the chef's course selections and expertly matched with wines from around the world. (Winnipeg location only.)
The cost is $100 per person including wines or $75 per person without wine. Register online, in-person at the store or by calling 204-475-0483. Pre-registration is required. Be sure to identify all guest allergies and dietary issues at time of booking.
SASKATOON: TREAT YOUR VALENTINE TO A SPECIAL DINNER ON FEBRUARY 14
Valentine's Day is on a Sunday this year, and to help you celebrate the occasion, Prairie Ink Saskatoon is staying open late to offer a special three-course dinner with four options per course. The Valentine's dinner will be served from 5:00 pm to 9:00 pm. Reservations are required. To make a reservation or for more information call 955-3599, outside Saskatoon call toll free 877-506-7456. Please note: The bookstore is keeping regular Sunday hours and will close at 6:00 pm. (Saskatoon location only.)
For more information on Prairie Ink, or to make a reservation, please give us a call.
Winnipeg 204-975-2659 | Saskatoon 306-955-3579
Also visit our Prairie Ink site for hours, menus, upcoming events, and more.
Thank you for reading.
The Bookseller is published by McNally Robinson Booksellers each January, March, May, July, and September. It is mailed to Reader Reward Card members, and is available in-store and right here on our website.
You can also subscribe to our emailing list to have The Bookseller sent right to your inbox.
Prices listed above are subject to change.